2007 MHA Annual Meeting
April 13-19, 2007
Heater Research and Testing Workshop
Instructors:

Norbert Senf
Jerry Frisch
Description:
The object of the workshop is to build and test a heater to demonstrate several important aspects of heater performance:
Effect of air supply
Demonstrate traditional Austrian "Sturzzug" (downdraft channel after firebox) configuration. Experiment with secondary air injection into downdraft channel
Demonstrate the difference between downdrafting and updrafting heat exchange channels
Test the performance of standard 8"x12" terracotta flue liners as downstream heat exchange channels under stress conditions.
Perform a flue gas analysis and evaluation of the performance of the heater under different configurations. Learn what the different gas curves mean, and how this might be used to analyze the performance of the heater and tune the design.
Important Notice:
If you intend to participate in this workshop, please download the
Heater Assembly Diagrams
and bring them along with you to the workshop
---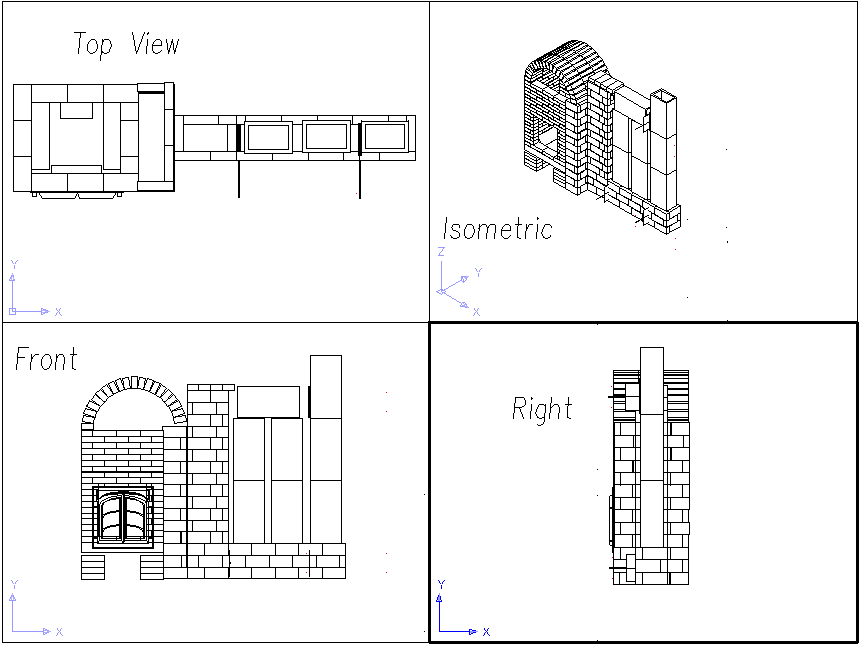 Description:
A 22" wide firebox exits into a downdraft channel ("Sturzzug") that is a characteristic of the traditional Austrian Kachelofen design.
The gases then enter a re-configurable heat exchanger system.
Standard operation is through a firebrick updraft channel that feeds a horizontal manifold.
The gases then downdraft through two parallel downdraft channels (8x12 clay flue liners), before venting at floor level into the chimney.
With sliding dampers, the heat exchanger can be reconfigured into either 2 or 3 parallel updraft channels. This will allow a verification
of buoyancy theory, which predicts that the leftmost updraft channel will run much hotter. In downdraft mode, both downdraft channels
are expected to have the same temperature.
In addition, a TESTO 330-2 Flue Gas Analyzer will be used to investigate the differences between several combustion air systems.
The Austrian "Sturzzug" system is particularly suitable for the introduction of secondary air into the downdraft channel. If time permits,
this will be investigated as well.
For additional background information, visit Lopez Labs, and check out the technical information in the archives section, as well
as current testing.
---
See also,
2006 Photo Report
2004 Photo Report
2003 Photo Report
2002 Photo Report
2001 Photo Report
2000 Photo Report
1999 Photo Report
1998 Photo Report
1997 Photo Report
This page was last updated on March 11, 2007
This page was created on February 15, 2007
Back to: