Polish Piec Restoration
March 18/01
The following photos were sent from Poland by R. Roberts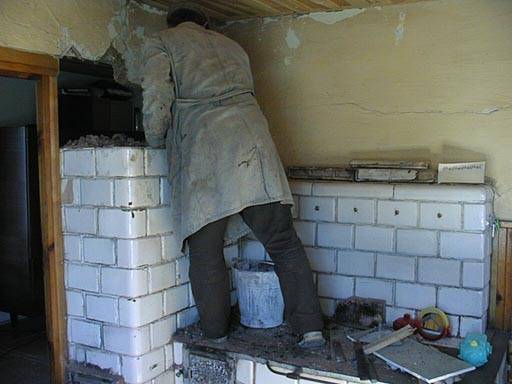 1. Jozef Grazulewicz, local farmer & stove builder stands on kitchen stove to begin disassembly of old piec.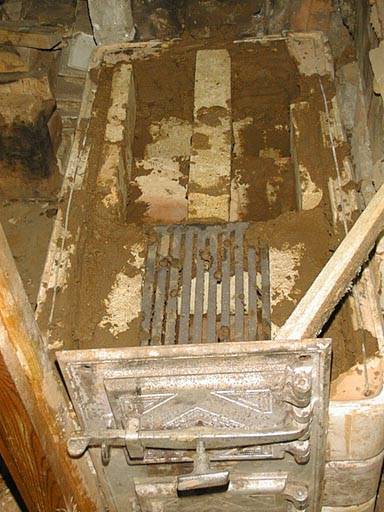 2. Inside of piec looking down, upper part of stove has been removed,
showing fire box and behind it the smoke channels. The smoke goes up,
down, up, down, and up again in the channels before going out at back.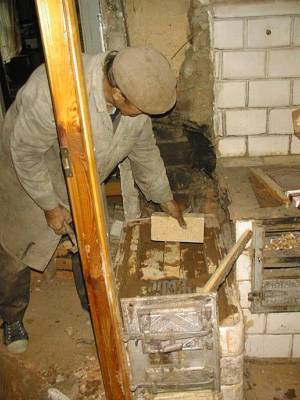 3. Setting a new brick in the old stove as it is rebuilt. The kitchen stove shows at the right.
Here is an excerpt of correspondence that appeared on the stoves list (stoves@crest.org)
(snip)Also, please note that this question relates to a farm owned by a foundation in NE Poland.
This property is available free to groups who would like to use it for ecology or educational projects
involving young children. Some funds are sometimes available to support this.
If you are aware of anyone with interest in this, please have them contact me.

Sincerely,
R. Roberts

More details on the heating system of the building in question follows:
A few years ago I purchased an abandoned farm in NE Poland. In this area all the rural homes
are heated by masonry wood/coal stoves. The effectiveness of these stoves amazed me.
Now I have built a new house on our property and am installing a wood heating stove,
a wood cooking stove, and a fireplace.

The stoves will be built by a local farmer/stove builder.

This page last updated on March 18/01
This page created on March 18/01
: