August 1/05

Dear Beverly and M.H.A.all,

Yesterday July 31th Certified M.H.A. Heater Masons almost
completed artistic 3 heaters and had drunk off almost of all Beer
in the village. Today they left Ohasama for Narita(Tokyo) Airport.

We Greatly Appreciate their devoted works which are memorial thefirst
Real Masonry Heaters in Japan.
Thanks a lot for so many supports from Bev. and M.H.A.all.

TV news and newspapaer reported their works, interviewed Jerry has
been one of TV star in this prefecture so it is possible to say The M.H.J.
workshop is successful. Many people has been interested in Masonry
Heater even in Summer.

And we are supported by many person and families.
Nozaki's family had been run around for materials, tools, meals, lodging
and so on.
Michiko(Mitchi) from Hokkaido worked with us for 10days to help in
translating and mason works.The biggest problem in managing the workshop
is my(Hickory's) bad English but covered by Michiko in Heater #1 & #3
and by my wife Shuko in Heater#2.
Rod ordered sometimes special things(which I thought can hardly be found),
but a friend of mine Takuya found out everything. It was also big help for
us.

Especially about Heater#2 in bakery Don Bosco it is so excellent Stucco and
Brick Heater. Because M.H.A. Heater Masons worked sometimes from early
in the morning before 7:00 to late evening 18:00 and also on the last
Saturday
& Sunday. The neighbors of bakery are saying that have never seen workers
such hard like as them.

4 famous Masons must be able to enjoy Japanese culture and life.
Rod and Gary and John has almost melted into Japanese life style.
Ofuro(public bath), Onsen(Hotspring), Yakitori(Berbecue) Bar,VolcanoAnpan
(special bread with sweet beans)...can not counts.

I talked with John about the next Step(Dream) of M.H.J..
Half year course of Masonry Heater Buildings in Iwate and Hokkaido.
Today I had started the preparation of next step in writing this
report(news #3).

I will send you all the photoes I took in CD.

Thank you again Jerry, Gary,Rod and John and M.H.A..
See you! Jaa nee!!

with prayer for their safe travel and wishes to keep in touch,

Hikari Fukazawa
Here is the latest from Hikari and the Four Certified Heater Masons in Japan...
4 Certified Masons of M.H.A. have already
completed Heater#1 at Nozaki's stove shop
and now been going so well about both Heater#2 and #3.
Mitchi( Michiko) have joined us since 19th
and help our workshop and 4 Masons.
We are calling 4 Masons "Brickist" like Makiwarist
because they are discussing eagerly about how to
build and design of brick heaters even after supper
drinking beer.
It is so hard work in unused circumstances that we
thank very much for their best efforts to complete
3 Heaters.
More 1 weeks we can work and enjoy with them.
Jaa-nee,
Hickory Hikari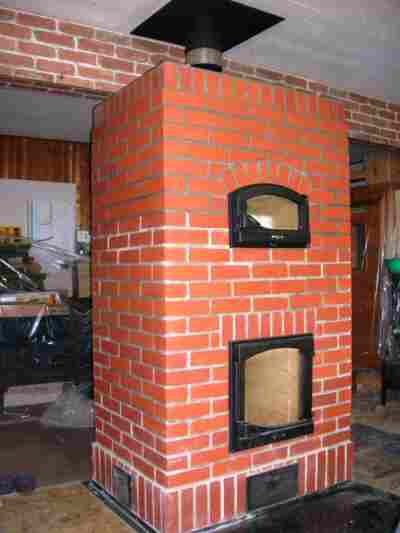 TRIP TO JAPAN

Our four certified heater masons left Friday, July 8th for Ohasama Town, Iwate JAPAN where they will build three different heaters and teach in workshop manner MHJ(Masonry Heater Japan) members and participants. John, Jerry & Rod will be there for the month of July. Gary will be there two weeks.

Hikari Fukazawa, MHA Member from Japan and MHJ member visited our annual meeting at Wildacres in 2003. He has since made this opportunity available to MHA with subsidies provided for the travel, lodging and food.
Hikari, who works for the Iwate Prefectural Forestry Technology Center, said "It was his dream that FIREWOOD FRIENDS spread to the whole world."

Michiko "Mitchi" Kudo from Sapporo, Hokkaido will also be attending a couple of the weeks.
We had the pleasure of meeting Mitchi at Wildacres 05.

We wish you well!