Letter to the Mayor of Montreal:
en francais

Marcus Flynn.
4057 Avenue de L'Esplanade
Montreal, H2W1S9
RBQ licence No. 8335-8119-53
www.pyromasse.ca
contact@pyromasse.ca


Hello Mr. De Susa,

I am a master stove builder living in Montreal. I have spent the last 18
years building and promoting masonry heaters through the Province of Quebec.

The primary motivation for me entering this trade was that masonry stoves
were well known for their combustion efficiency and low particulate
emissions.


To include masonry heaters in the proposed ban will be a negative step on
the path to ecological equilibrium. I ask that before you make your decision
you take the time to assess carefully the wealth of information available,
reguarding the suject.


It can be shown with scientific documentation, that masonry heaters have a
combustion efficiency and particulate output similar to pelet stoves. So why
cannot masonry heaters be exempt from the ban along with pelet burning
stoves?


As a long time environmentalist I support your initiative in dealing with
city air. But obviously do not want what could be part of the solution being
classed as part of the problem, basicaly because people do not understand
what a masonry heater is.


The masonry heater offers a secure form of central heating, with overall
particulate emissions comparable to pelet stoves. Today, there is more
interest in masonry stoves in the Province of Quebec than in any other
Province or State of North America, attesting to the avant-garde
eco-friendly spirit of the population.



The enclosed image is of a Finnish contra-flow masonry heater (Takka) I
built last november in Montreal. It will heat the whole house with 7 face
cords of hard wood per year. Combustion efficiency is close to 98%. An
estimated particulate output would be 1.5 gram per hour, of which most is
soot and not tar.


The client walks to work.


Marcus Flynn.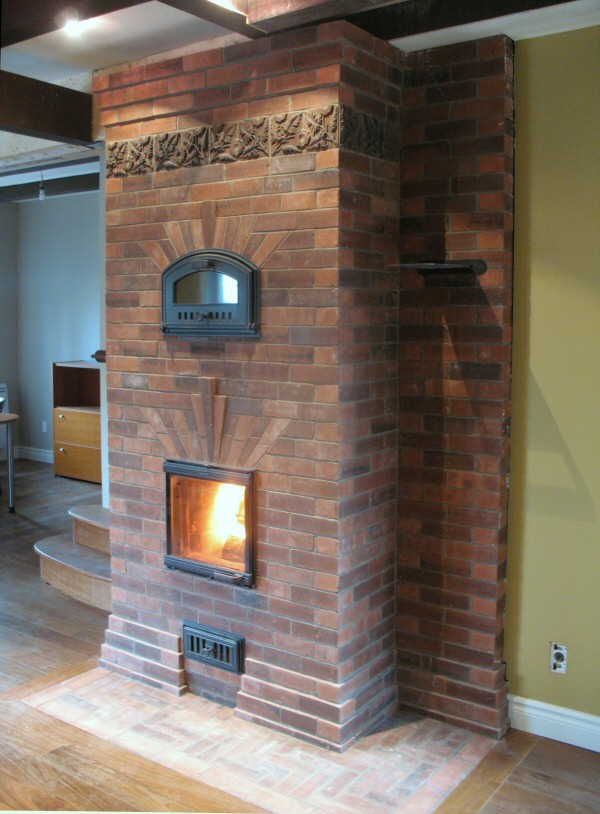 >From: Marcus Flynn [mailto:contact@pyromasse.ca]
>Sent: 24 fvrier 2009 13:27
>To: 'line.beauchamp@mddep.gouv.qc.ca'
>Subject: Foyers de masse
>
>
>
>
>
>
>Marcus Flynn.
>4057 Avenue de L'esplanade appt.2
>Montral, P.Q.
>H2W-1S9
>Licence R.B.Q.: 8335-8119-53
>
>www.pyromasse.ca
>contact@pyromasse.ca
>(514)844-9824
>
>
>Bonjour Mme Beauchamp,
>
>
>Je suis matre-artisan fabricant de foyers de masse et j'habite Montral.
>J'ai consacr les derniers 18 ans construire et promouvoir les foyers de
>masse dans la Province de Qubec.
>
>
>Ma premire motivation joindre ce mtier tant qu'ils taient bien connus
>pour leur efficacit de combustion et leur faible mission de particules
>dans l'air.
>
>
>Inclure les foyers de masse dans l'interdit serait une tape ngative sur le
>chemin de l'quilibre cologique.
>
>
>Je vous prie de considrer la richesse de l'information disponible sur le
>sujet.
>
>
>Documentation scientifique l'appui, on peut prouver que les foyers de
>masse ont une efficacit de combustion et que les particules mises dans
>l'air sont similaires celles des poles granules. Alors pourquoi ne pas
>les inclure l'exemption d'interdit au mme titre que les poles
>granules?
>
>
>Moi-mme environnementaliste depuis longtemps, je supporte votre initiative
> vous intresser la qualit de l'air dans la ville. Mais videmment je ne
>voudrais pas que ce qui puisse tre une des rponses au problme soit class
>au contraire comme faisant partie du problme, et ce simplement parce que
>les gens ne connaissent pas vritablement ce que sont les foyers de masse.
>
>
>Les foyers de masse sont une forme de chauffage central scuritaire et
>mettent peu de particules, en cela comparable aux fours granules.
>Aujourd'hui au Qubec, on s'y intresse plus que dans toute autre Province
>ou tat en Amrique du Nord, dmontrant bien l'esprit cologique avant-garde
>de la population.
>
>
>L'image ci-jointe est celle d'un foyer de masse de style finlandais
>contresens (Takka) que j'ai construit Montral en novembre dernier. Il
>peut chauffer la maison avec 7 corde de bois franc de 16 po par an.
>L'efficacit de combustion est de prs de 98%. Les particlules mises
>estimes 1.5 grammes l'heure, la plupart des particules de suie et non
>de goudron.
>
>Et le client marche et utilise le vlo pour aller au travail!...
>
>
>Marcus Flynn.
>www.pyromasse.ca
>contact@pyromasse.ca
>(514)844-9824